Experts in compression garment measuring & fitting
Helping to make your life more comfortable and your legs look amazing
Janet Grummett Bio
Compression Garment Specialist
& Owner, Natural Steps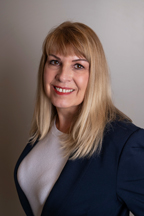 Janet Grummett has over 25 years' experience in fitting compression stockings. She is passionate about helping clients who suffer with varicose veins and other venous disorders and who require special hosiery to make their life more comfortable.
Janet takes appointments at her office in Burlington and also in the comfort of your own home. Janet can help you choose between pantyhose, stockings or socks according to your need and preference.
Once you have a prescription from your doctor for a support hose, contact Janet. She will set up an appointment and do the necessary measurements to ensure proper fit and select the compression strength needed to best help you.
Once these steps are completed, you can choose from a wide variety of fashionable and stylish compression stockings, pantyhose and socks from brands such as Mediven, CEP, Sigvaris and Achi Medical.
Janet is available in Cambridge, Burlington, Wasaga Beach and surrounding areas.
Ally Sands Bio
Certified Stocking Specialist at Natural Steps
Ally Sands is a certified stocking specialist and joined Natural Steps in 2011. Ally has a passion to help and work with people to find the right hosiery and ensure the proper fit. She offers both conventional office or in home fitting services for convenience and comfort.
"I love my career with Natural Steps! I have always wanted to work in a field where I could help people, I have found just that and more with this company. My experience with Natural Steps has been fabulous. This company is all about quality. I personally love the products and wear them every day. They feel wonderful on my legs and they look amazing! These stockings are beautiful and they have come a very long way from what they used to be. They have given me comfort and support in my busy life and they have proven to work very well for me. It is great to be able to offer to the public a product I use and believe in. I chose to work with Natural Steps over the competition because of the personal care and expertise this company offers to their clients. Our clients are like our family; we build personal relationships with each individual and provide them with the products that are best for them."
Ally will be serving Grey/ Bruce County and surrounding areas. Call Ally for a consultation and/or a fitting; she would be happy to help.