Janet Grummett Bio
Compression Garment Specialist
& Owner, Natural Steps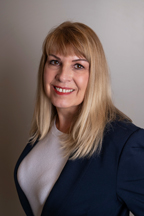 Janet Grummett has over 25 years' experience in fitting compression stockings. She is passionate about helping clients who suffer with varicose veins and other venous disorders and who require special hosiery to make their life more comfortable.
Janet takes appointments at her office in Burlington and also in the comfort of your own home. Janet can help you choose between pantyhose, stockings or socks according to your need and preference.
If you're looking for an expert in compression garment measuring and fitting, once you have a prescription from your doctor for a support hose, contact Janet. She will set up an appointment and do the necessary measurements to ensure proper fit and select the compression strength needed to best help you.
Once these steps are completed, you can choose from a wide variety of fashionable and stylish compression stockings, pantyhose and socks from brands such as Mediven, CEP, Sigvaris and Achi Medical.
Janet is available in Cambridge, Burlington, Wasaga Beach and surrounding areas.